Keywords
Economics of Sustainability in Anesthesia
Last updated: 09/12/2023
Key Points
Sustainability practices can be economically beneficial for health care systems.
Small sustainability practice changes can make a large economic impact.
Sustainability projects that decrease the carbon footprint also decrease the costs of healthcare.
Research and technology on the economics of sustainability are developing rapidly.
Sustainability Economic Basics
Barriers include status quo practices, production pressure, infection control, and the culture of single-use items.
Broad collaboration with multiple departments, administration, government, and industry is necessary to make impactful system changes.
Tools for Economic Sustainability
Life Cycle Assessment (LCA)
LCA is designed to facilitate the quantification of a defined system's material and energy inputs and outputs over its life cycle, as well as resulting contributions to regional- and global-scale resource depletion and environmental degradation.1
Check out the OA LCA summary: Link
The Value of Sustainability in the Healthcare System
Inhalational Agents
• Anesthetic drugs may represent 5.7% of the total drug costs of the pharmacy.2
• Inhalational anesthetics may represent 20% of the drug expenses of an anesthesia department.2
• Central nitrous oxide delivery systems represent wasted revenue due at least 77% leakage to as high as 95% in storage, pipeline, valve, and patient-delivery leakage.3
• Examples of cost-saving results for anesthetic gases are listed in Table 1.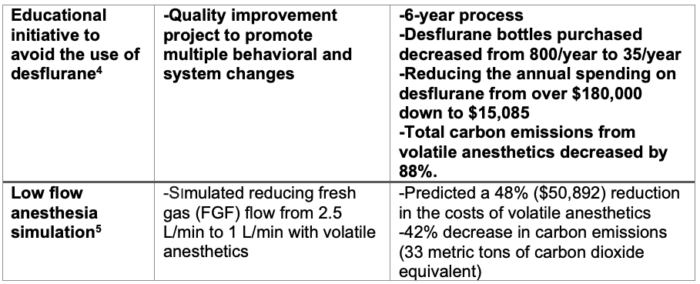 Propofol and Drug Waste
Wasted or discarded propofol accounts for 45% of the total perioperative pharmaceutical waste.6 Examples of cost-saving results for propofol are listed in Table 2.

Reusables
The carbon emission net balance is dependent on the energy source mix.
Water consumption is greater for reusable equipment. Examples of cost-saving results for reusables are listed in Table 3.

Wastestreaming
Improper segregation can lead to resource misuse or inappropriate allocation, environmental pollution, and increased cost for the institution.
Conscious sorting decreases hazardous waste incineration which is a high-cost waste stream component.
Examples of cost-saving results for waste streaming efficiency are listed in Table 4.

Energy and Water
Healthcare facilities consume close to 10% of the total energy used in US commercial buildings and spend more than $8 billion on energy every year.
Examples of cost saving for energy and water efficiency are listed in Table 5.

Looking Forward
Economic gain is a strong motivator regardless of belief in climate change urgency.
Reprocessing is an economically sustainable tool. Reprocessing refers to a cleaning and resale process for single-use devices that are mechanically suitable for reuse.
Eliminating leakage from central nitrous oxide delivery systems saves money.
Technological advances from electronic record data analysis to new greenhouse gas capture and destruction industries should be utilized.
Moving towards renewable energy sources should be considered instead of carbon-based fuels, such as solar and wind energy.
A Leadership in Energy and Environmental Design certification should be initiated. The use of solar energy and other alternative noncarbon-based sources should be increased for hospitals.
Environmental Social Governance should be incorporated into healthcare mission.
Copyright Information

This work is licensed under a Creative Commons Attribution-NonCommercial-NoDerivatives 4.0 International License.