Keywords
Total body water content
Last updated: 06/06/2017
Water is the single largest constituent substance in the human body, composing more than 50%. Total body water (TBW) is defined as the volume of water in a person's body, which can be calculated by multiplying the percentage of water content multiplied by kilogram weight. Typically, adult male weight is 60% water, adult female 50-55%. A 70kg adult has approximately 40L of total body water content. It varies based on age and adiposity. With increasing age, fatty tissue increases and TBW decreases. Females have more adipose tissue than males. TBW is highest in preterm (90%), full-term neonates (75-80%). In other words, neonates have a larger volume of distribution given their higher total body water content.
Importantly, the amount of body that is composed of water changes with age, and the location of that water with the body changes as well. Water may be located within the extracellular fluid (ECF) or the intracellular fluid (ICF). The ECF can be further broken down into the interstitial fluid (ISF: lymphatic fluid, protein-poor fluid between cells), intravascular fluid (plasma, fluid within the subglycocalyx), and transcellular fluid (GI fluid, bile, urine, aqueous humor, synovial fluid, and pleural, peritoneal, and pericardial fluids). Neonates have the highest total body water content, with 80% of bodyweight consisting of water. Additionally, the ECF takes up 45% of body weight in neonates. Both of these figures decrease with age with adults having a total body water content of 60% and ECF of 22% body weight. See table below for further breakdown. These changes in total body water content has important implications in pharmacology. For instance, neonates may require higher concentrations of water-soluble drugs than older children due to their higher body water content. Similarly, dosing adjustments in the elderly are important due to decreased total body water content and consequently smaller central compartment volume, which lead to higher plasma drug concentrations.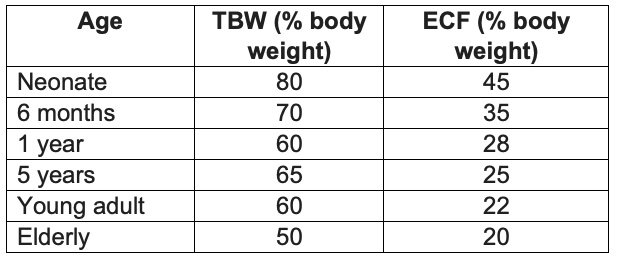 Copyright Information

This work is licensed under a Creative Commons Attribution-NonCommercial-NoDerivatives 4.0 International License.