Summaries
Peritonitis
Last updated: 11/17/2023
Key Points
Peritonitis is defined as the infection of the peritoneal cavity. Primary peritonitis, also known as spontaneous bacterial peritonitis (SBP), is usually associated with liver disease and ascites.
Secondary peritonitis is associated with the spillage of microorganisms and is usually associated with injury to the gastrointestinal tract. Tertiary peritonitis is recurrent peritonitis following an episode of secondary peritonitis.
Patients on peritoneal dialysis are at risk for developing peritonitis.
Diagnosis
Peritonitis is suspected when patients at risk present with signs or symptoms of fever and/or abdominal pain. Other signs such as nausea, vomiting, ileus, guarding, and abdominal tenderness can be present. In severe cases, patients may present with shock. However, patients with SBP may also be asymptomatic, especially in outpatients.1
Paracentesis should be carried out in all patients with cirrhosis and ascites at hospital admission to rule out SBP and in patients with gastrointestinal bleeding, shock, or worsening liver and/or renal function.1 If possible, paracentesis should be performed prior to the administration of antibiotics. Diagnosis of SBP is based on diagnostic paracentesis.
Routine tests on ascitic fluid include:

Gram stain
Aerobic and anaerobic culture
Cell count and differential
Albumin
Total protein
Glucose
Lactate dehydrogenase (LDH)
Amylase
Bilirubin

Blood tests, including complete blood count with differential, chemistry, and cultures are also routinely drawn to confirm infection.
If secondary causes are suspected, additional imaging studies may need to be performed.
Ascitic Fluid
Peritoneal infection causes an inflammatory reaction → increased polymorphonuclear neutrophil (PMN) count in ascitic fluid.
Diagnosis of SBP is based on PMN count greater than 250/mm3. Ascitic fluid culture is frequently negative (~40%), and positive cultures are not necessary for the diagnosis of SBP. Positive cultures (ascitic fluid and blood) can be useful in determining antibiotic selection and course.
Patients can sometimes have ascitic fluid PMN count less than 250/mm3 but have positive ascitic fluid culture. If the patient appears infected, empiric antibiotic therapy should be started. Otherwise, a second paracentesis should be performed.2
Treatment
• The treatment of peritonitis is summarized in Table 1.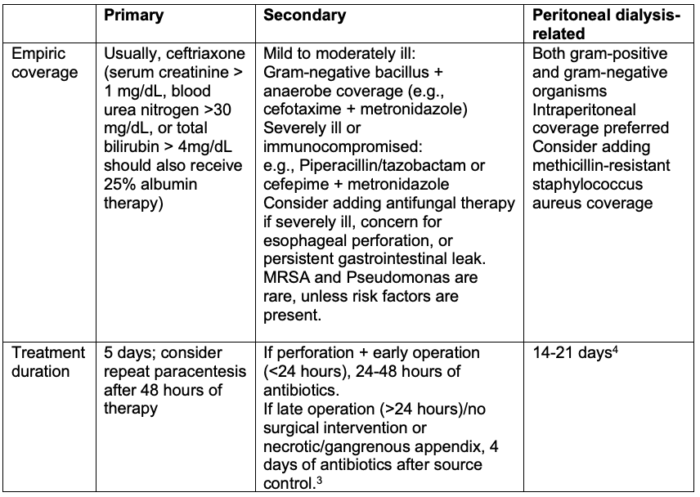 Copyright Information

This work is licensed under a Creative Commons Attribution-NonCommercial-NoDerivatives 4.0 International License.