Keywords
Intraosseous Access
Last updated: 05/09/2023
Key Points
Intraosseous cannulation is a method to rapidly achieve circulatory access, typically utilized when traditional venous vascular access has failed or is delaying management.
After penetrating the bony cortex and accessing the bone's medullary venous sinus, any substance that is infusible by peripheral intravenous (IV) access may be administered.
An intraosseous needle can be easily and rapidly placed and has demonstrated efficacy.
Intraosseous needle access provides the equivalent flow of a 21-gauge catheter.
Introduction and Indications
In emergent medical circumstances that demand vascular access, a secure route into the patient's circulation is critical. The most commonly utilized routes are peripheral or central venous catheters. When attempts at standard venous access have failed or are delaying management, or when the patient is in significant cardiopulmonary distress or shock, intraosseous needle access is a viable alternative for vascular access.
The American Heart Association and the International Committee on Resuscitation endorses the use of intraosseous access as a safe and effective means of vascular access in critically ill children and adults.1
An intraosseous needle provides a conduit for intraosseous vascular access via placement of a hollow-bore needle through the cortex of bone into the medullary canal and its medullary venous sinuses. Unlike peripheral veins, these venous sinuses are not constricted in the setting of shock or hypovolemia.1 As a result, intraosseous access is twice as likely to be successful as IV line placement in patients without a blood pressure.2
Intraosseous access has low procedural complexity and a success rate greater than 90% among trained personnel, with successful access achievable in less than 1 minute.3 This high success rate has been demonstrated in physicians, nurses, and paramedics.4
The preferred site of intraosseous access is dependent on the age of the patient.

For infants and neonates, the commonly utilized sites include the distal femur, proximal tibia, and distal tibia (Figure 1).
In adults, the proximal tibia and humeral head are used preferentially, as well as the sternum (Figure 1).

Intraosseous access to the circulation is less commonly achieved through the anterior inferior iliac spine, clavicle, and distal radius. It is also possible in bones without medullary cavities, such as the calcaneus and radial styloid.1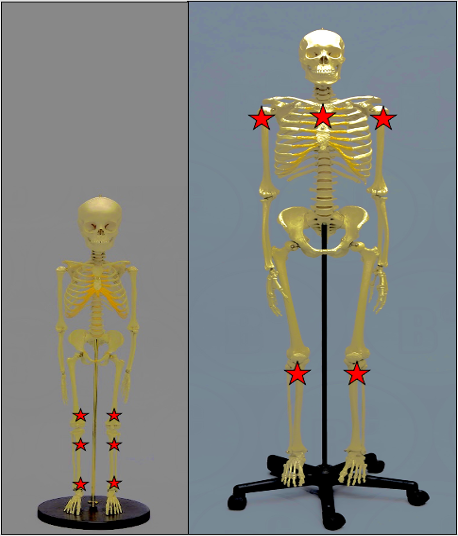 Indications and Contraindications
Intraosseous access should not be used as an alternative when routine peripheral or central venous access is possible; however, it is indicated when traditional venous access is not easily obtainable or would delay management.5
Intraosseous access is contraindicated in circumstances that would increase the risk of bony trauma, infection, or extravasation of fluid/marrow (Table 1).

Procedural Guidelines
Standard sterile technique including surgical mask, sterile latex-free gloves, and eye protection should be used. After site palpation and aseptic skin preparation, a local anesthetic may be injected at the procedure site.
The intraosseous needle may be placed manually, with a handheld battery-powered needle driver (EZ-IO) (Figure 2), or with impact driven devices (bone injection gun, FAST1).
Procedural guidelines for the use of a manual intraosseous needle are listed below:

Before skin preparation, the margins of the selected bone should be palpated and central placement of the needle should be ensured within those margins. The site of access and mechanism of insertion varies depending on anatomical location (Table 2).4
Once the site of access is confirmed, the needle should be inserted according to specified guidelines below (Table 2). The needle should be advanced until contact is made with the external bony cortex. When this occurs, at least 5 mm of the needle should remain visible above the skin. This will allow for adequate penetration into the medullary space. If 5 mm of needle is not visible above the skin, a longer needle should be utilized or a different site of insertion should be selected.
Pressure perpendicular to the chosen access point should be applied in a back-and-forth left-right twisting motion in order to pass through the bony cortex and into the marrow cavity.
Bone marrow should be aspirated in order to ensure proper placement of the intraosseous catheter.
Once in the medullary space, 0.5 mg/kg of lidocaine (maximum dose 40 mg) should be administered, and roughly 2 minutes should elapse for the analgesic to take effect. The space should then be flushed with 5 to 10 cc of normal saline and the needle should be secured with tape and dressing. The intraosseous needle can then be connected to conventional IV tubing.

This vascular access site can be used to administer any substance that is infusible by peripheral IV (medications, antibiotics, blood, and other fluids) at rates that are comparable to a 21-gauge catheter.1,5 The intraosseous needle should be removed within 24 hours of placement to minimize the risk of complications.
Fluoroscopic visualization of venous access after proximal humeral intraosseous cannulation is shown in this video.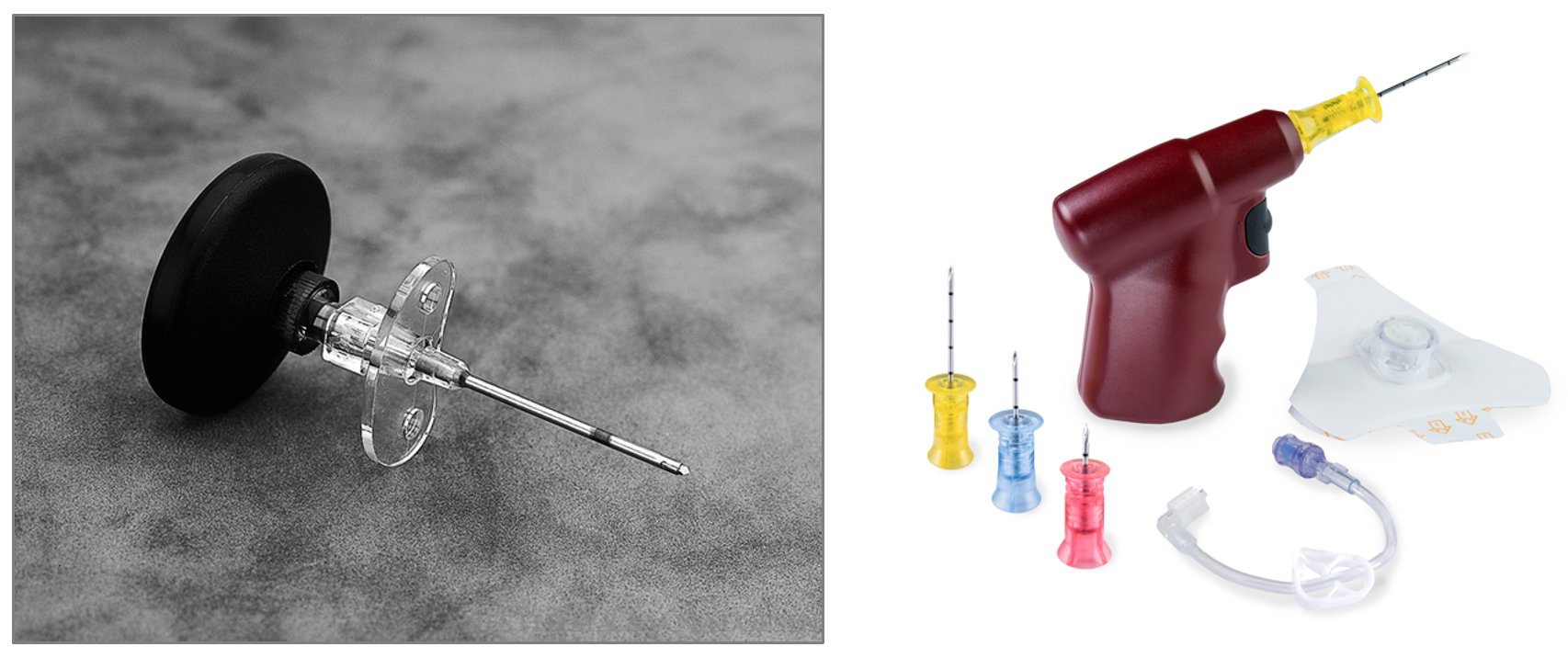 Limitations and Complications
Although intraosseous access has demonstrated superior outcomes in a wide variety of clinical scenarios, it is still highly underutilized. Common barriers to its use include a lack of confidence in or familiarity with intraosseous access.4
Intraosseous vascular access is widely considered to be safe and effective. Nevertheless, potential complications include:

Fracture of bone
Fracture of intraosseous needle
Disruption of epiphyseal growth plate
Osteomyelitis
Cellulitis
Fat and bone marrow emboli
Compartment syndrome secondary to extravasation of fluid from the access site
Inability to remove a bent intraosseous needle, requiring surgery
Other References
Nagler J, Krauss B. Videos in clinical medicine. Intraosseous catheter placement in children. N Engl J Med. 2011;364(8):e14. PubMed
Noureldin A, Cevik AA. Intraosseous needle insertion into anterior tibia. Source: Wikipedia. CC BY. Accessed March 24th, 2023. Link
Arrow® EZ-IO® Infusion Fluoroscopy Proximal Humerus. Accessed March 24th, 2023. Link
Copyright Information

This work is licensed under a Creative Commons Attribution-NonCommercial-NoDerivatives 4.0 International License.