Keywords
Glucagon-Like Peptide 1 Receptor Agonists and Aspiration Risk
Last updated: 08/23/2023
Key Points
Glucagon-like peptide 1 receptor agonists (GLP-1-RA) are incretin hormones that help to lower blood sugar and aid in weight loss which has made them important medications for treatment in patients with type 2 diabetes mellitus (T2DM) and obesity.
The side effect profile of GLP-1-RA includes delayed gastric emptying which may put surgical patients at an increased aspiration risk, even if proper fasting guidelines have been followed.
The American Society of Anesthesiologists (ASA) has provided guidance on GLP-1-RA use prior to surgery based on the pharmacological half-life, advising that daily medications should be held a day before surgery, and weekly GLP-1-RA should be held a week before surgery.
If a patient has not held their GLP-1-RA, it is recommended that they be treated using "full-stomach" precautions.
Introduction
GLP-1-RA have become important medications for treatment in patients with T2DM. They were also approved in 2021 by the US Food and Drug Administration for weight loss for patients who are overweight or obese and have at least one comorbid condition.1
GLP-1-RA have been shown to be very effective in reducing A1C in diabetic patients and have demonstrated significant weight loss benefits.2
Because these medications significantly delay gastric emptying, surgical patients taking GLP-1-RA may be at an increased risk for gastric aspiration despite following proper fasting guidelines.
Therefore, recommendations have been issued to withhold these medications prior to elective surgery.
Mechanism of Action2,3
Glucagon-like peptide-1 (GLP-1) is a hormone produced and secreted in intestinal cells and in the brainstem upon food consumption.
GLP-1 is an incretin and lowers blood sugar by enhancing the secretion of insulin. It also inhibits release of glucagon from the pancreas, slows the rate of food absorption, delays gastric emptying, and may directly lead to reduced food intake.
GLP-1 receptors are abundant in the pancreas, but are also found throughout the intestine, lung, kidney, heart, blood vessels, lymphocytes, and the peripheral and central nervous system (Figure 1).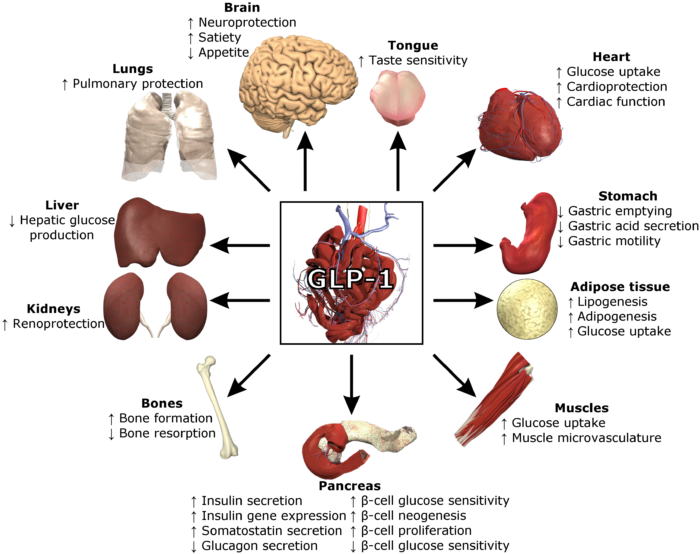 GLP-1 is quickly degraded by the dipeptidyl peptidase 4 (DPP-4) enzyme, making the plasma half-life 1-2 minutes.3 Synthetic GLP-1 agonists are resistant to degradation by DPP-4, increasing the half-life of their actions by several fold.
Side Effects2,3,8
The most common side effect of GLP-1-RA are gastrointestinal (GI) symptoms. Many patients experience nausea, vomiting, and diarrhea with the use of these agents.2
The central nervous system effects of GLP-1-RA lead to delayed gastric emptying causing earlier satiety and decreased appetite.3
There have been reported cases of acute pancreatitis in patients using GLP-1-RA, making any history of pancreatitis a contraindication for this medication use.2
There is a theoretical risk of medullary carcinoma of the thyroid due to the GLP-1-mediated effect of calcitonin release. There has still not been a detailed correlation between GLP-1-RA and medullary thyroid carcinoma. Until better data is available, it is advised for patients with personal or familial history of medullary thyroid cancer or multiple endocrine neoplasia 2A or 2B to avoid the use of GLP-1-RA.2
Other possible side effects include acute cholelithiasis, hypersensitivity reactions, acute kidney injury secondary to undesirable GI side effects, and thrombocytopenia.2
Long-term side effects associated with GLP-1-RA use have still not been established.
Clinical Implications
Patients taking GLP-1-RA may be at an increased risk for aspiration of gastric contents because of delayed gastric emptying, even if proper preoperative fasting guidelines have been followed.
Several case reports have been published describing pulmonary aspiration of gastric contents in patients who had been fasted for over 18 hours. One patient was also seen to have solid food remnants with an esophagogastroduodenoscopy (EGD).4
There have been a few small cohort studies that have used either EGD5 or gastric ultrasound6 to compare the residual gastric remains in patients using GLP-1-RA and a control group after adequate fasting guidelines. Both studies showed that there was a significant increase in retained gastric content in patients who were using GLP-1-RA which can lead to aspiration during a surgical procedure.
The limited data that has been published has shown that the ASA Practice Guidelines for Preoperative Fasting⁷ used in most medical institutions does not adequately protect patients who may have delayed gastric emptying secondary to GLP-1-RA use.
ASA Guidance on Preoperative Management of GLP-1-RA Use
In June 2023, the ASA released guidance on withholding GLP-1-RA to reduce aspiration risk based on anecdotal reports.8
The ASA guidelines consider the pharmacological half-life of the specific GLP-1-RA in use.

For patients taking once daily GLP-1-RA, medication should be held on the day of surgery.8
For patients taking weekly GLP-1-RA, medication should be held a week before surgery.8

Some of the commonly used GLP-1-RAs and their half-lives are detailed in Table 1.2,8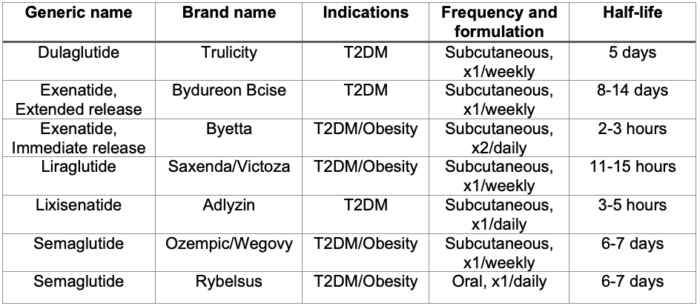 In addition, if the patient has GI symptoms, including nausea, vomiting, retching, bloating, or abdominal pain, elective surgeries should be delayed.9
Withholding GLP-1-RA to lower aspiration risk in patients with T2DM should be weighed against the adverse effects of impaired glucose control on an individual patient basis.
If GLP-1-RA were not held as per guidance, the patient should be considered to have a full stomach and rapid sequence induction performed. A gastric ultrasound can be used to determine if there are any gastric contents still in the stomach.8
The following algorithm has been proposed for the management of patients taking GLP-1-RA presenting for surgery (Figure 2).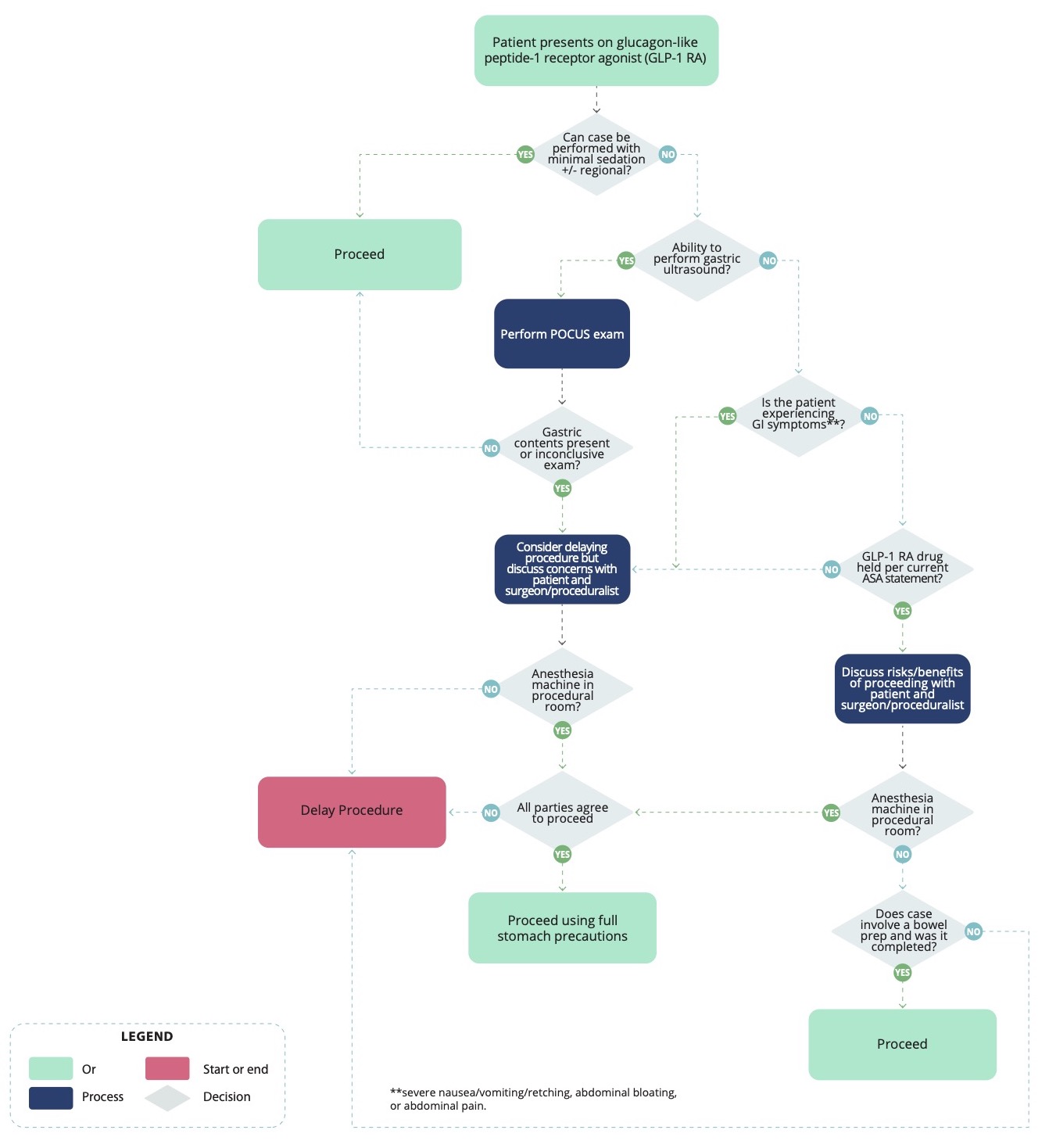 References
U.S. Food and Drug Administration. FDA Approves New Drug Treatment for Chronic Weight Management, First Since 2014. 2021. Accessed July 23, 2023. Link
Dungan K, DeSantis A. Glucagon-like peptide 1-based therapies for the treatment of type 2 diabetes mellitus. In: Post T, ed. UpToDate; 2023. Accessed July 23, 2023. Link
Gulak MA, Murphy P. Regurgitation under anesthesia in a fasted patient prescribed semaglutide for weight loss: a case report. Can J Anaesth. 2023;10. PubMed
Klein SR, Hobai IA. Semaglutide, delayed gastric emptying, and intraoperative pulmonary aspiration: a case report. Can J Anaesth. 2023. PubMed
Silveira SQ, da Silva LM, de Campos Vieira Abib A, Relationship between perioperative semaglutide use and residual gastric content: A retrospective analysis of patients undergoing elective upper endoscopy. J Clin Anesth. 2023;87: 111091. PubMed
Sherwin M, Hamburger J, Katz D, et al. Influence of semaglutide use on the presence of residual gastric solids on gastric ultrasound: a prospective observational study in volunteers without obesity recently started on semaglutide. Can J Anaesth. 2023;10. PubMed
Practice guidelines for preoperative fasting and the use of pharmacologic agents to reduce the risk of pulmonary aspiration: Application to healthy patients undergoing elective procedures: An updated report by the American Society of Anesthesiologists task torce on preoperative fasting and the use of pharmacologic agents to reduce the risk of pulmonary aspiration. Anesthesiology. 2017;126(3):376-393. PubMed
American Society of Anesthesiologists consensus-based guidance on preoperative management of patients (Adults and children) on glucagon-like peptide-1 (GLP-1) receptor agonists. June 2023. Accessed July 23, 2023. Link
Henshaw D, Sparler N, Talbott A, et al. Algorithm for patients presenting for elective surgery while taking glucagon-like peptide-1 receptor agonists (GLP-1 RA's); Department of Anesthesiology, Atrium Health Wake Forest Baptist Hospital, Wake Forest University School of Medicine, Winston Salem, NC 27157; 2023.
Copyright Information

This work is licensed under a Creative Commons Attribution-NonCommercial-NoDerivatives 4.0 International License.