Keywords
Fat Embolism
Last updated: 04/25/2023
Key Points
Fat embolism is the presence of fat droplets in circulation. Fat embolism syndrome (FES) occurs when this results in neurologic, respiratory, hematological, and cutaneous signs and symptoms.
The pathophysiology involves both mechanical obstruction of end-organ capillaries and systemic inflammatory response.
FES is a clinical diagnosis. Imaging such as computed tomography (CT), magnetic resonance imaging (MRI), and echocardiogram may aid in the diagnosis.
Treatment is supportive with oxygenation and early resuscitation. Most patients recover spontaneously and fully.
The use of corticosteroids in the prevention and treatment of fat embolism syndrome is not recommended.
Introduction
Fat embolism is defined as the presence of fat droplets in blood circulation.1
FES occurs when this results in neurologic, respiratory, hematological, and cutaneous signs and symptoms.
While varying amounts of fat emboli are present in nearly all patients with long-bone and pelvis fractures, the incidence of fat embolism syndrome (FES) is less than 1%.2,3
Risk Factors
The highest risk for fat embolism is after skeletal trauma, especially long-bone and pelvic fractures. Nearly 98% of patients with femoral shaft fractures are found to have fat emboli.1
Surgeries requiring instrumentation of the femoral medullary canal also confer a high risk. Eighty-eight percent of patients undergoing medullary reaming for long-bone fixation had echocardiographic evidence of fat emboli.1
Fat embolism can also occur after severe soft tissue trauma, including procedures such as liposuction and fat translocation for cosmetic surgery.1
Rare nontraumatic causes have been reported in pancreatitis, sickle cell or thalassemia crisis, osteonecrosis, bone marrow necrosis, lipid-based infusions, fatty liver disease, and angiomyolipomas invasion of major vessels.2
Pathophysiology
Two theories describe the pathophysiology of fat embolism syndrome:
Mechanical – Obstruction of end-organ capillaries by embolization of fat and bone marrow debris.3
Biochemical – Fat emboli metabolism to free fatty acids which triggers the systemic inflammatory response leading to the invasion of inflammatory cells, the release of cytokines, pulmonary endothelial damage, and, in some cases acute respiratory distress syndrome (ARDS) (Figure 1).3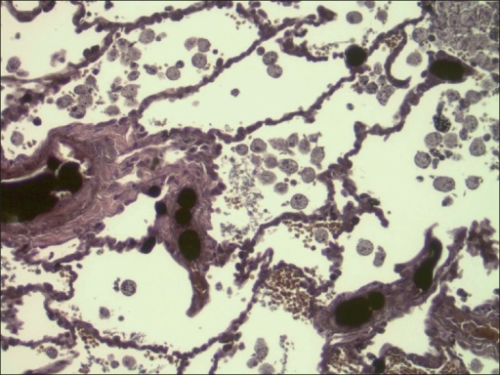 Diagnosis
Differential diagnoses to consider when FES is suspected include pulmonary or cement emboli, vasculitic disorders, bacterial pneumonia, sepsis, and ARDS.1
FES is a clinical diagnosis. Clinical presentation includes neurologic, respiratory, hematological, and cutaneous signs and symptoms. Affected patients may develop the classic triad of symptoms: hypoxemia, neurologic abnormalities, and petechial rash. Studies have shown that the number of fat droplets in the blood does not correlate to the severity of presentation.2,3
Two classification schemes may be used for diagnosis (not well-validated):
Gurd's diagnosis of FES (Table 1): There is some controversy over the requirement for fat macroglobulinemia, as fat droplets can be found in the blood of healthy volunteers and trauma patients without FES.3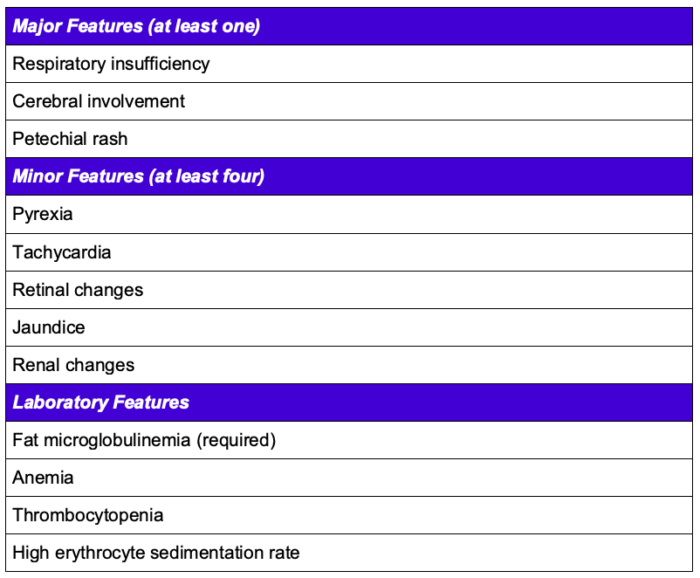 2. Schonfeld FES Index (Table 2)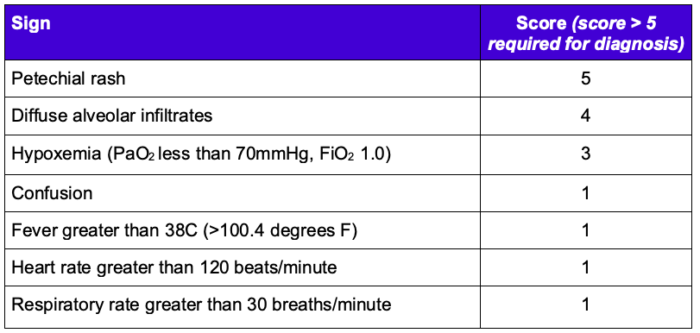 The onset of FES can be acute but often develops gradually over 12-72 hours.3
Respiratory signs are the most common, with hypoxia present in at least 75% of patients.2 Respiratory symptoms are the earliest presenting sign and can range from tachypnea and hypoxemia to ARDS.1

Arterial blood gas most often shows hypoxemia with an oxygen alveolar-arterial (A-a) gradient due to ventilation-perfusion mismatch secondary to increased dead space.

Neurologic findings may indicate cerebral embolism after passage of fat embolism across an atrioventricular shunt.2 Symptoms may manifest as altered level of consciousness, confusion, focal neurologic deficit, seizures, or coma.1
A petechial rash is pathognomonic and typically presents on the conjunctivae, oral mucosa, axillae, and neck.3
Laboratory findings of thrombocytopenia, anemia, and hypofibrinogenemia are indicative of FES.
Electrocardiogram is often normal, although right heart strain may be seen in severe cases.1
Diagnostic Imaging
Imaging can help confirm fat embolism or rule out alternative diagnoses.
Chest CT is superior for diagnosing pulmonary fat emboli and may show ground-glass change with geographic distribution or interlobular septal thickening, and nodular opacities (Figure 3). A chest x-ray may show diffuse bilateral pulmonary infiltrates but may not be prominent.2,4
Brain MRI is the preferred imaging modality for cerebral fat embolism and should be considered in patients with neurologic symptoms. Diffusion-weighted MRI can reveal a classic "starfield" pattern of fat microembolism within one hour of symptoms onset (Figure 2). Several hours later, foci of vasogenic edema in an embolic distribution can be seen on T2-weighted MRI. CT head is usually normal but could show diffuse white-matter petechial hemorrhages.1,4
Transesophageal or transthoracic echocardiogram may show fat emboli as dense echogenic material. The presence of emboli does not correlate with the development of FES (Figure 4).1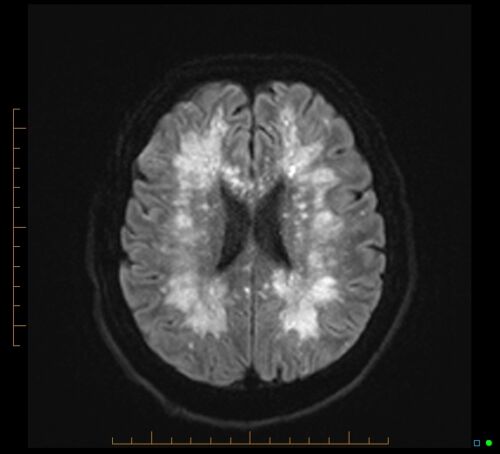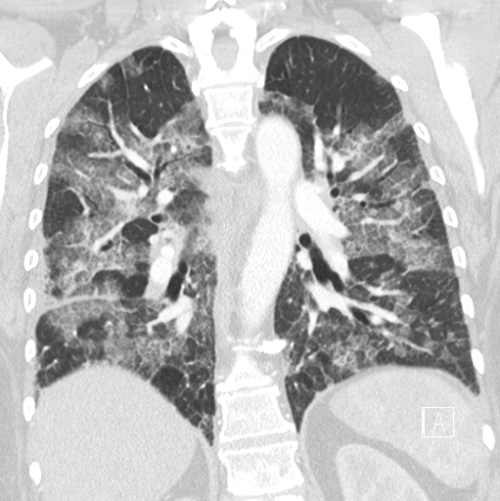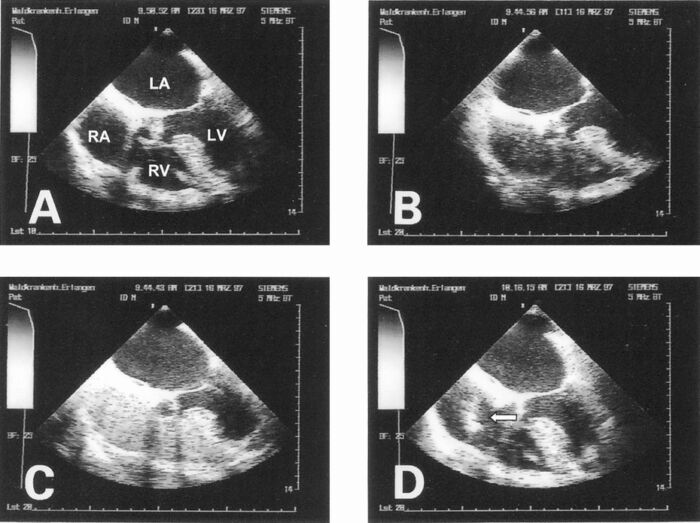 Management
Prevention
Patients at risk for FES should be monitored with pulse oximetry to facilitate early recognition.2
Early fixation of long bone fractures may decrease the risk of FES.3
Treatment
The mainstay of treating FES is supportive care, emphasizing oxygenation and early resuscitation to attenuate the stress response to hypoxemia, hypotension, and end-organ damage. Approximately 10% of patients with FES will require mechanical ventilation. Early recognition and supportive interventions prevent poor outcomes and decrease mortality.3
Studies on the utility of corticosteroids for the prevention and treatment of FES have yielded mixed results. Risks associated with steroids, such as osteoporosis, delayed wound healing, and secondary infection, have led to the reluctance of its use. Steroids are currently not recommended.3
Most patients with FES fully recover with supportive therapies. Most symptoms resolve within a few days. Studies reported mortality rates ranging from 1.2%-15%.2
References
Luff D, Hewson DW. Fat embolism syndrome. BJA Education. 2021; 21(9):322-8. PubMed
Weinhouse GL. Fat embolism syndrome. In: Post TW, ed. UpToDate; 2023. Accessed on March 1, 2023.
Kindler CH, Evgenov OV, Crawford LC, et al. Anesthesia for orthopedic surgery. In: Gropper M, Cohen NH, Eriksson LI, et al. Miller's Anesthesia. Philadelphia, PA 9th ed. Elsevier. 2019
Weerakkody Y, Hacking C, Gaillard F, et al. Fat embolism syndrome. Radiopaedia.org Link Published 18 Oct 2010. Updated 29 Sept 2022. Accessed on 21 Feb 2023.
Koessler MJ, Fabiani R, Hamer H, Pitto RP. The clinical relevance of embolic events detected by transesophageal echocardiography during cemented total hip arthroplasty: a randomized clinical trial. Anesth Analg. 2001;92(1):49-55. PubMed
Copyright Information

This work is licensed under a Creative Commons Attribution-NonCommercial-NoDerivatives 4.0 International License.