Summaries
Drug Dosing in Patients with Obesity
Last updated: 03/22/2023
Key Points
Total body weight (TBW), lean body weight (LBW), and ideal body weight (IBW) are important parameters to consider when dosing medications in a patient with obesity. Incorrect application of these measurements may result in underdosing or overdosing of certain medications.
Patients with obesity have differential proportions of lean body mass and fat mass when compared to patients of normal weight. Fat mass increases proportionally faster than lean body mass as weight increases above a normal body mass index (BMI).
Patients with obesity have an increased volume of distribution and cardiac output, leading to differences in the plasma concentrations of medications.
Dosing induction medications based on total body weight may result in hemodynamic instability. Agents such as propofol and etomidate should be dosed according to LBW and titrated to effect.
Dosing of nondepolarizing neuromuscular blockers should be based on IBW, while succinylcholine dosing should be based on TBW.
Body Mass Scalars
Obesity is defined by a BMI > 30 kg/m2. Class III obesity (formerly morbid obesity) is defined as BMI ≥ 40 or BMI ≥ 35 with an obesity-related medical comorbidity (e.g., hypertension or diabetes mellitus).
Total body weight (TBW): the measured weight or mass of an individual (typically in kg).
Ideal body weight (IBW): theoretically, the optimal weight associated with maximum life expectancy for an individual of a given height and sex.

IBW (men) = 50 kg + 2.3 x (Height [inches] – 60)
IBW (women) = 45.5 kg + 2.3 x (Height [inches] – 60)
IBW (children) = BMI at 50th percentile x Height [m]2 – best used for children older than 3 years.

Lean body weight (LBW): the difference between TBW and fat mass and consists of vital organs, muscle, bone, and extracellular fluid.1 Fat mass increases proportionally faster than lean body mass as weight increases above a normal BMI (Figure 1).

LBW (men) = [9270 x TBW (kg)] / [6680 + (216 x BMI (kg/m2))]
LBW (women) = [9270 x TBW (kg)] / [8780 + (244 x BMI (kg/m2))]
Several online calculators exist for LBW that are generally accurate and can be used when dosing hydrophilic medications based on LBW. An example includes: Link

Adjusted body weight (ABW): calculation intended to correct for an altered volume of distribution in patients with obesity.

ABW = IBW + correction factor x (TBW – IBW).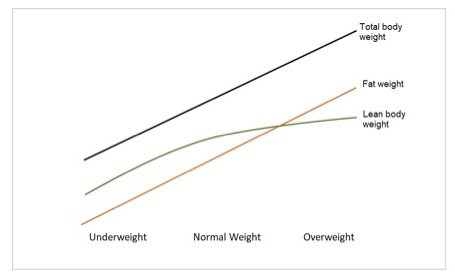 Pharmacokinetic Changes in Obesity
Volume of distribution is a proportionality constant (theoretical volume) relating the total amount of a drug administered to the measured plasma concentration (Vd = amount of drug administered (mg) ÷ measured plasma concentration (mg/L).
Higher volumes of distribution represent greater drug distribution into tissues (and by definition, lower plasma concentrations available for drug effect).
The effect of obesity on the volume of distribution for lipophilic vs. hydrophilic drugs is variable.
Cardiac output in obesity increases by ~20-30 mL/kg of excess fat, but the proportion of blood flow to fat decreases from ~5% to 2% in patients with obesity.
Serum albumin levels are generally stable in obesity, but serum alpha-1-acid glycoprotein (AGP) levels may be increased. Higher levels of AGP may lead to increased protein binding and therefore decreased free plasma concentration of drugs that bind AGP.2
Obesity often coexists with hepatic steatosis leading to functional degeneration of the liver and altered drug metabolism.

Different CYP450 enzymes are variably affected by obesity which may lead to an increase or decrease in drug metabolism.

Obesity has strong associations with the development of hypertension and diabetes mellitus (the two leading causes of chronic kidney disease).3

Glomerular filtration rate and, therefore, renal clearance of drugs may be increased in younger, otherwise healthy patients with obesity (due to increased cardiac output).2
As chronic kidney disease develops, renal clearance of drugs diminishes.
Drug dosing should incorporate measured creatinine clearance for patients with obesity, particularly those with obesity-related comorbidities.
Drug Dosing in Obesity
Recommended dosing scalar for commonly used anesthetic medications is shown below in Table 1.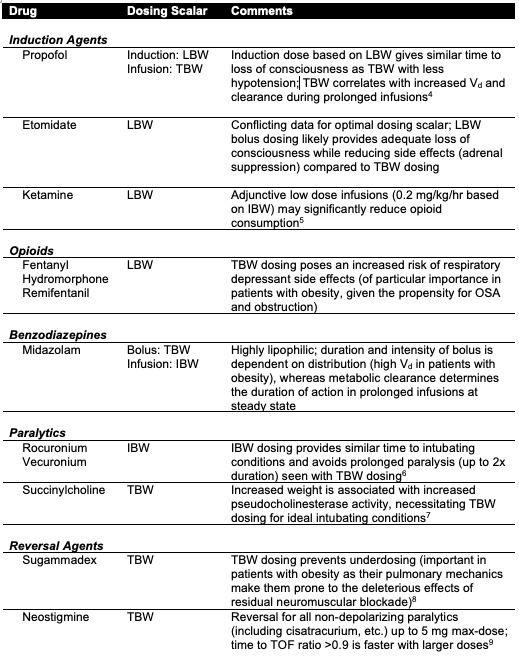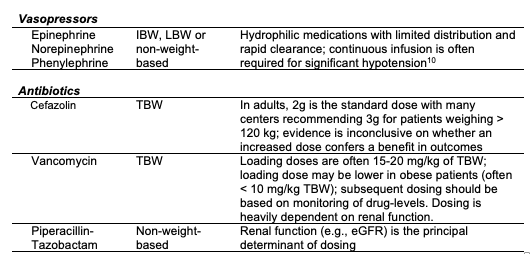 Copyright Information

This work is licensed under a Creative Commons Attribution-NonCommercial-NoDerivatives 4.0 International License.