Summaries
Deep Brain Stimulation ("DBS") Anatomy
Last updated: 06/07/2017
Principle: An impulse generator ("IPG") implanted underneath the skin inferior to the clavicle is connected by wires running subcutaneously to stimulator electrodes implanted in the brain. The IPG sends continuous electrical pulses (frequency and amplitude can be customized and "titrated" to effect for each patient) through the electrodes to targeted areas of the brain that block abnormal brain signals that cause symptoms. Most commonly used to treat Parkinson's disease that is not well controlled with medications.
Anatomy

Electrodes are typically placed bilaterally and can be placed on any combination of the subthalamic nucleus, globes pallidus interna, and/or thalamus. Final placement location(s) are customized per patient.

Subthalamic nucleus

Typical placement location. Placement here can treat all major symptoms of Parkinson's including tremor, slowness of movement, rigidity, walking, and balance.

Globes pallidus interna

Electrodes may be placed here as adjunct to subthalamic nucleus placement. Less effective for treatment of walking and balance symptoms.

Thalamus

Only effective for treating tremor and rigidity symptoms — thus, not typically placed here for treatment of Parkinson's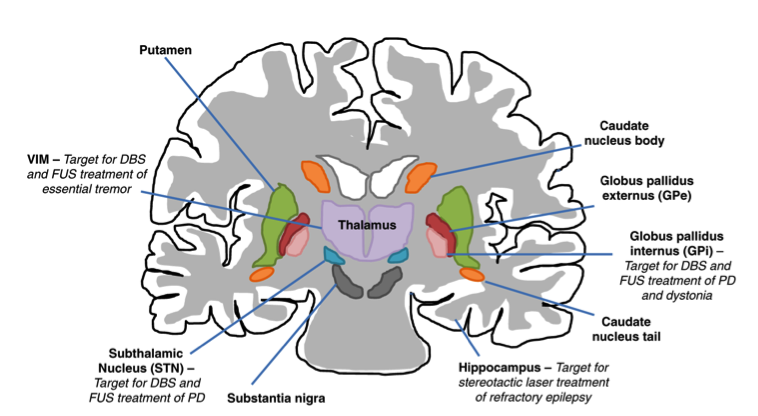 References
Dunn LK, Durieux ME, Elias WJ, Nemergut EC, Naik BI. Innovations in Functional Neurosurgery and Anesthetic Implications. J Neurosurg Anesthesiol. 2016 Dec 23. [Epub ahead of print] PubMed Link
Copyright Information

This work is licensed under a Creative Commons Attribution-NonCommercial-NoDerivatives 4.0 International License.