Keywords
Chronic Subdural Hematoma
Last updated: 05/23/2023
Key Points
Chronic subdural hematoma (SDH) results from tearing of bridging veins in the subdural space that becomes encapsulated in neomembranes and forms a hygroma over the course of weeks to months.
Normal SDH absorption from counter pressure from brain parenchyma is often absent in chronic SDH.
Patients with chronic SDHs are more likely to present with nonspecific symptoms such as headache, seizures, behavioral changes, focal deficits, hemiparesis, etc.
The treatment of chronic SDH depends on the etiology and clinical context.
Etiology
SDH is a type of intracranial hemorrhage characterized by bleeding that occurs between the dural and arachnoid membranes that surround the brain.1,2
SDHs can be classified into several subtypes based on:2

Time course: acute, subacute, acute on chronic, and chronic
Etiology: traumatic, spontaneous, and other pathologies
Special considerations: anticoagulation-induced, bilateral, recurrent, etc.

Chronic SDH can result from minor head trauma, especially in patients with age-related brain atrophy or on anticoagulation.2
Lowering of intracranial pressures (ICP) can also lead to chronic SDH.

Decreased ICP may result from a cerebral spinal fluid (CSF) leak following lumbar puncture, ventriculostomy, shunt placement, or other neurosurgical procedure.1
The decrease in ICP causes the brain to depress in the skull leading to engorgement and stretching of the bridging veins.2
Pathophysiology
Minor trauma leads to damage of venous structures and a collection of small amounts of blood in the subdural space.
Normal absorption of SDH is reliant upon counter pressure from brain tissue and the lack of potential subdural space.

The minor inciting events for chronic SDH typically cause little brain swelling.
The patients at risk for chronic SDH often have increased subdural space from aggressive shunting, atrophy, or alcoholism.2

Continued bleeding may be due to the formation of neomembranes around the hematoma.2

Part of this membrane is highly vascularized and may lead to repeat bleeding.
Another part of the membrane secretes antithrombotic and fibrinolytic enzymes.
Clinical Presentation and Diagnosis
Patients with chronic SDH are more likely to present with nonfocal symptoms such as headache, light-headedness, seizures, behavioral changes, cognitive impairment, somnolence, gait disturbances, memory problems, etc.1-3
Chronic SDH is as a reversible cause of dementia.3
A noncontrast head computed tomography is often used to diagnose chronic SDH. It appears as a crescent-shaped mass, and is often more hypodense than an acute SDH.3
Treatment Options
Like acute SDH, the treatment of chronic SDH includes:1,2

Ensuring a patent airway, adequate oxygenation, and ventilation
Maintaining stable hemodynamics and avoiding hypo- or hypertension
Performing a detailed neurological examination to determine the severity of neurological deficits and provide a baseline to assess for clinical deterioration.
Avoiding elevations in ICP by raising the head of the bed and ensuring venous drainage
Reversing anticoagulation, if necessary
Administering seizure prophylaxis
Neurosurgical consultation for surgical decompression

Surgical decompression is a treatment option for chronic SDH.

Most surgeons agree that many chronic SDHs require surgery because the body lacks the natural ability to reabsorb the blood.2
Surgery is commonly required due to the tendency of the bleeding to increase overtime.2
Indications for surgical evacuation include clot thickness greater than 10 mm or midline shift greater than 5 mm on brain scans.2
All symptomatic lesions should be considered for surgical management.2

Multiple surgical techniques have been used for surgical evacuation and any of them can be augmented by the placement of a subdural drain.1,2

Open craniotomy
Burr-hole craniotomy
Twist-drill craniostomy with drainage catheter, which can be performed at the bedside in the intensive care unit.

Embolization of the middle meningeal artery (MMA)

MMA embolization may be used as adjunctive therapy to prevent recurrence after the mass effect is reduced4 (Figure 1).
MMA embolization reduces recurrence rates by preventing microbleeding episodes from immature neovessels of the membranes surrounding the chronic SDH.4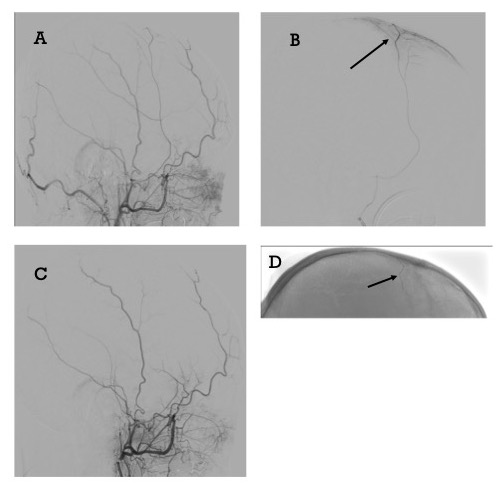 References
McBride W. Subdural hematoma in adults: Etiology, clinical features, and diagnosis. In: Post T (ed). UpToDate; 2023.
Huang KT, Bi WL, Abd-El-Barr M, et al. The neurocritical and neurosurgical care of subdural hematomas. Neurocritical Care. 2016; 24: 294-307. PubMed
Sahyouni, R, Goshtasbi K, Mahmoodi A, et. al. Chronic subdural hematoma: A historical and clinical perspective. World Neurosurg. 2017; 108:948-53. PubMed
Haldrup M, Ketharanathan B, Debrabant B, et al. Embolization of the middle meningeal artery in patients with chronic subdural hematoma- a systematic review and meta-analysis. Acts Neurochir (Wien). 2020; 162:777-84. PubMed
Copyright Information

This work is licensed under a Creative Commons Attribution-NonCommercial-NoDerivatives 4.0 International License.