Summaries
Ambulatory Surgery Fast Track Criteria
Last updated: 05/28/2019
Fast tracking patients after ambulatory surgery, even with general anesthesia, is occurring with increasing frequency due to cost savings and increased patient satisfaction. Not only is patient and procedure selection important, there must be a thorough yet succinct method of evaluating patient readiness for bypassing the PACU and moving directly from the operating room to phase II. The modified Aldrete scoring system has been utilized for determining patient readiness for PACU discharge. It assesses hemodynamic stability, oxygenation and breathing, alertness, and activity. For a patient to move from PACU to phase II prior to discharge home, other factors such as nausea and pain must also be addressed. White added these to Aldrete's scoring system to help determine in the operating room if a patient was eligible after general anesthesia to go directly to phase II. A minimal score of 12 with no score <1 is required to bypass PACU.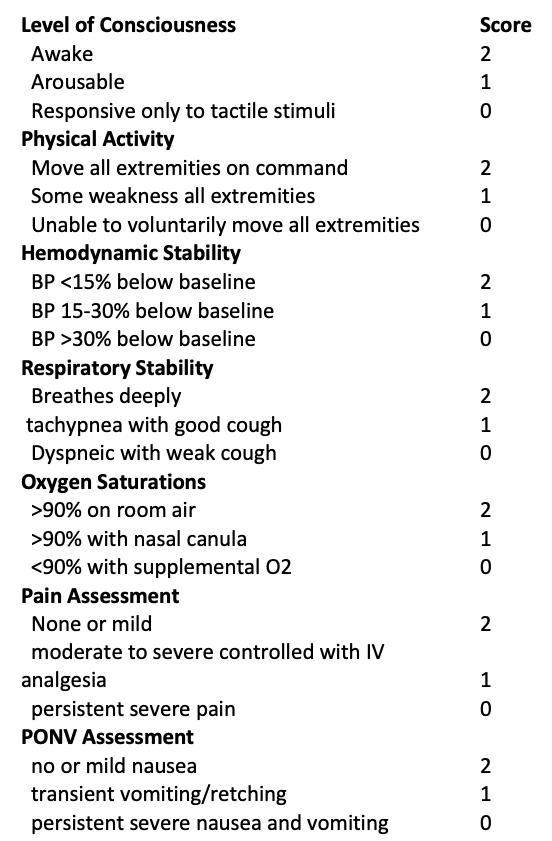 References
White PF, Song D. New Criteria for Fast-Tracking After Outpatient Anesthesia: A Comparison with the Modified Aldrete's Scoring System. Anesth Analg 1999; 88: 1069-72. PubMed Link
Other References
Keys to the Cart: March 1, 2020 Link
Copyright Information

This work is licensed under a Creative Commons Attribution-NonCommercial-NoDerivatives 4.0 International License.