Keywords
LAST: Rx
Last updated: 06/03/2020
Local anesthetic toxicity (LAST) is a relatively rare complication that results from elevated plasma concentrations of local anesthetics most often after accidental intravascular injection. The symptoms of local anesthetic toxicity occur in a dose-dependent fashion and result from the systemic sodium channel blockade including in the brain and the heart. Central nervous system (CNS) symptoms often precede cardiac manifestations causing circumoral numbness, facial tingling, restlessness, vertigo, tinnitus, and slurred speech, culminating in tonic-clonic seizures. Cardiac manifestations include prolonged PR interval and widening of the QRS complex leading to wide range of arrhythmias. Mainstay of treatment is the use of 20% intralipid as described in Table: Treatment of LAST.
See Table: Maximum Dose for maximum dosages (subject to variation depending on concentration, location, technique, and whether combined with a vasoconstrictor) of common local anesthetics according to Morgan and Mikhail's Clinical Anesthesiology.
Treatment of LAST is no different than any other form of cardiopulmonary arrest or life-threatening pathology. Caregivers should call for help and then initiate therapy. There are three tenets of treatment: 1) seizure control, 2) advanced cardiac life support (ACLS), and 3) early administration of 20% intralipid emulsion.
Seizure control is primarily achieved with administration of benzodiazepines such as midazolam. Use of small doses of propofol is highly controversial as it can potentially worsen cardiac dysfunction due to local anesthetics.
ACLS should be performed for anyone with hemodynamic or respiratory instability with one caveat: vasopressors can worsen acidosis and arrhythmia associated with LAST. Accordingly, lower doses of epinephrine should be used and vasopressin should be avoided. Epinephrine doses should be <1mcg/kg. Additionally, calcium channel blockers, beta-blockers and local anesthetics should be avoided for arrhythmia treatment. Patients may require cardiopulmonary bypass and early involvement of the bypass team should be considered depending on the severity of the patient's LAST reaction.
Intralipid is a relatively new, circa 2006, novel agent that has revolutionized and improved survival in LAST. It functions as a "lipid sink" and scavenges local anesthetic (and lipophilic moieties) and shuttles it to places where it can be stored and detoxified. Early IV administration of 1.5mL/kg 20% intralipid is key in reducing cardiotoxicity from local anesthetics. Next, an infusion of 0.25mL/kg/min should be initiated. After completion of this infusion, the patient can go one of three routes: if hemodynamically stable, continue the 0.25mL/kg/min infusion for 10 minutes then monitor for 12hrs. If they are unstable, repeat the 1.5mL/kg bolus. If they are hypotensive without dysrhythmia, increase the infusion to 0.5mL/kg/min. Complications or side-effects of acute intralipid therapy include bronchospasm, interference with laboratory values and increased amylase levels. Prolonged infusions can cause transaminitis, hepatosplenomegaly and bacterial contamination.
Finally, much like malignant hyperthermia, after LAST treatment, the event should be reported to www.lipidrescue.org and www.lipidregistry.org.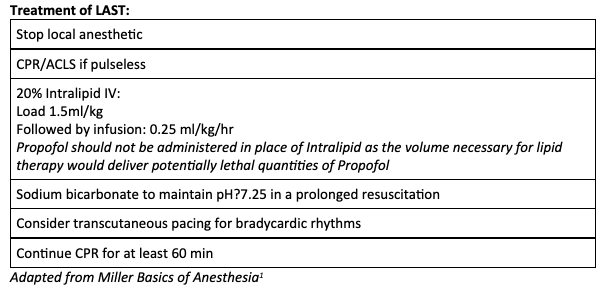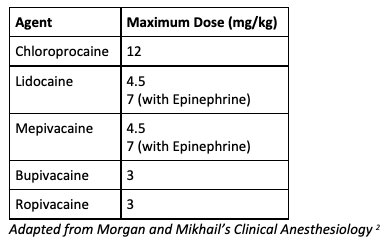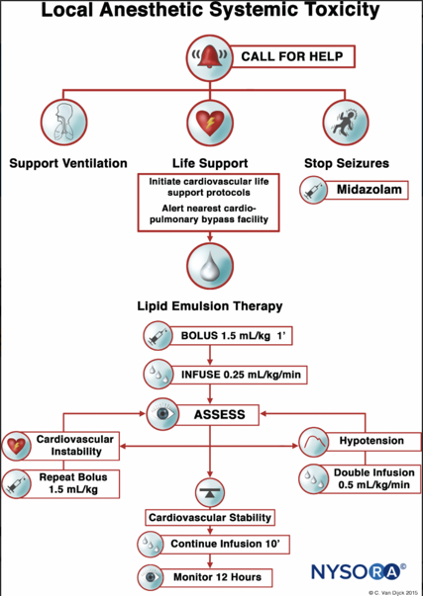 References
El-Boghdadly K, Pawa A, Chin KJ. Local anesthetic systemic toxicity: current perspectives. Local Reg Anesth. 2018;11:35-44. Published 2018 Aug 8. doi:10.2147/LRA.S154512 Link
Weinberg GL. Treatment of Local Anesthetic Systemic Toxicity (LAST). Reg Anesth Pain Med. 2010;35:188-93. Link
Copyright Information

This work is licensed under a Creative Commons Attribution-NonCommercial-NoDerivatives 4.0 International License.